Back to all posts
Posted on:
Scholastic Book Fair: Paws For Books!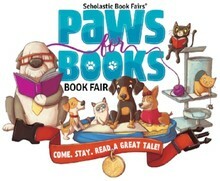 Our Spring Book Fair runs March 14th-16th and it is going to be so Doggone good!
We are inviting all to our first Family Night, "Paws to Read", Thursday, March 15 from 6:00-8:00.
Please COME, SIT, STAY and READ a great tale with your family when you come to peruse the Book Fair!
We are so excited to have storytellers, Barbara Davies, and Susan Roberts (along with her dog, Forte), to entertain from 6:00 to 6:30 and again from 7:00 to 7:30.
It's a casual open-house format that we hope you will take time to enjoy! Of course you are welcome to visit the book fair during school hours if that's more convenient for you. We will be open:
Wednesday 8:45-4:00
Thursday 8:45-8:00
Friday 8:45-12:45
If you would like to volunteer for a couple of hours, just call the MES office, we'd be happy to accept your help.