Back to all posts
Posted on:
Bell Let's Talk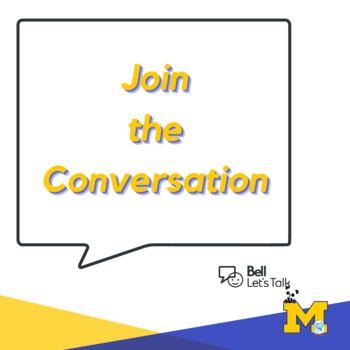 In September 2010, Bell Let's Talk began a new conversation about Canada's mental health. At that time, most people were not talking about mental illness. But the numbers spoke volumes about the urgent need for action. Millions of Canadians, including leading personalities, engaged in an open discussion about mental illness, offering new ideas and hope for those who struggle, with numbers growing every year.
Building on ten years of increased awareness and acceptance around mental health, Bell Let's Talk is focused on engaging Canadians to take action to create positive change in mental health.
Since its launch in September 2010, Bell Let's Talk has partnered with more than 1,300 organizations to provide mental health support and services throughout Canada. To learn more, please visit Bell.ca/LetsTalk.
There are important reasons to start talking about mental health. For instance, mental health issues are among the most widespread health issues in the country, and there are implications for everyone. One in three Canadians will experience a mental illness at some point in their lives; however, many people are hesitant about talking to coworkers, friends, or family members about mental health and seeking treatment. While you may not experience mental health challenges first-hand, it is likely that you know someone who has or will have a mental illness.
For anyone facing challenges with their mental health, stigma (i.e., negative attitudes and discrimination) is one of the biggest hurdles to overcome. In fact, it is the leading reason why two-thirds of people living with mental health issues do not seek help.
Let's join the conversation!